The  Symposium on Software Performance: Joint Kieker/Palladio Days 2013, which took place November 27-29 (Wed-Fri), 2013 in Karlsruhe, Germany, brought together  researchers and practitioners interested in all facets of software performance, ranging  from modeling and prediction to monitoring and management. The symposium was  organized by two already established user groups: for the first time, the Kieker and the  Palladio communities had a joint meeting in form of this symposium. Kieker is a  well-established tool and approach for monitoring software performance of complex, large,  and distributed IT systems. Palladio is a likewise-established tool and approach for  modeling software architectures of IT systems and for simulating their performance.  However, contributions were not limited to these two communities but we also welcomed  contributions from the field.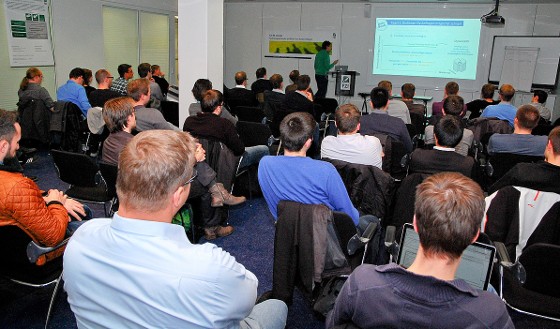 The 3-day program featured an industrial and an academic keynote, two introductory talks  on Kieker and Palladio respectively, 12 technical talks, and dedicated slots for discussions. In his industrial keynote, Stefan Siegl (NovaTec GmbH, Leinfelden-Echterdingen, Germany) provided insights into "15 Years of APM—Why Applications Still Struggle with Performance Problems." In her academic keynote, Catia Trubiani (University of L'Aquila, Italy) talked about "Software Performance Antipatterns Challenges: How to Get Rid of Worms Before Contaminating the Apple?" A dedicated slot for break-out groups allowed for discussions in smaller groups on specific topics that emerged during the symposium. Co-located with the symposium was the Karlsruhe Web Performance Meetup, where Steffen Krause (Amazon Web Services) reported about "Architecture Best Practices for Web applications with Amazon Web Services."
The roughly 50 participants helped to make the Kieker/Palladio Days a successful event with interesting talks and fruitful discussions in a very friendly atmosphere. We would like to thank all participants that contributed to the event, including the authors and presenters, as well as the additional reviewers and local organizers.