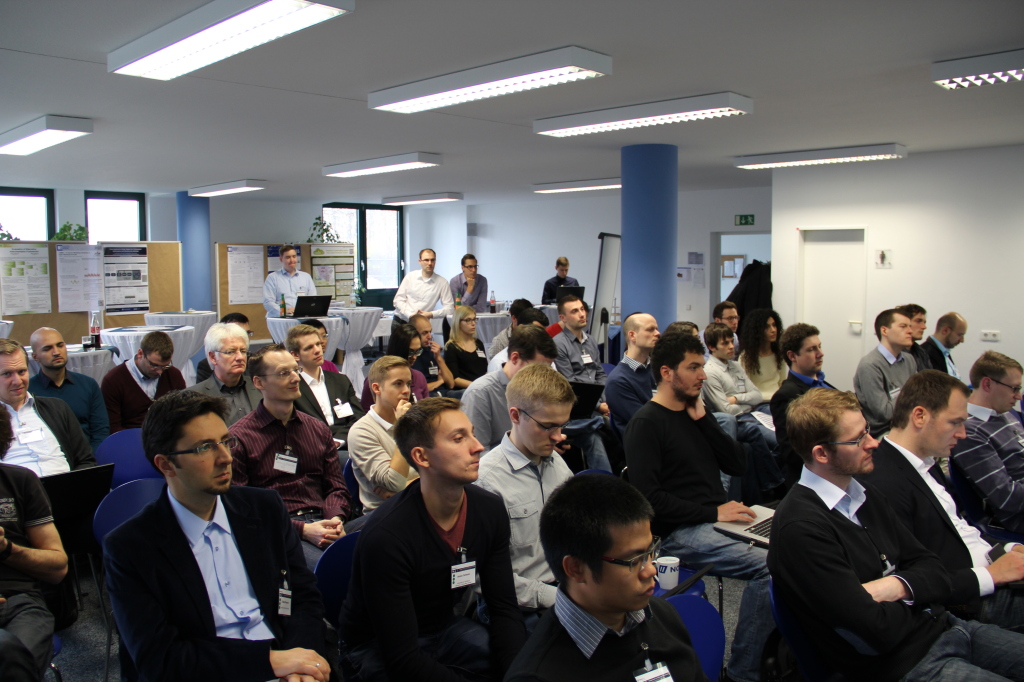 More than 60 participants from roughly 20 different organizations attended this year's Symposium on Software Performance (SOSP 2014), which took place from November 26 to 28, 2014 in Stuttgart, Germany. SOSP aims to bring together researchers and practitioners interested in all facets of software performance, ranging from modeling and prediction to monitoring and runtime management. The symposium is organized by the three research groups Descartes, Kieker, and Palladio, who use this symposium also as a joint developer and community meeting.
The two-and-a-half day program featured developer meetings, 19 talks (including two invited industrial talks), seven tutorials, and a dedicated poster session with eight posters. In the first industrial talk, Heiko Koziolek (ABB Corporate Research) reported about six years of Performance Modeling at ABB Corporate Research. In the second industrial talk, Stefan Fütterling and Michael Großmann (Capgemini) reported about performance challenges in a large mainframe system. In addition to invited contributions from practitioners and researchers, we welcomed contributions from academic, scientific, or industrial contexts in the field of software performance, including but not limited to approaches employing Descartes, Kieker, and/or Palladio.
The participants helped to make SOSP 2014 a successful event with interesting talks and fruitful discussions in a very friendly atmosphere. We would like to thank all participants that contributed to the event, including the authors and presenters, as well as the NovaTec GmbH who sponsored SOSP 2014 by hosting and catering.
Additional information about this event, including previous editions, are available on the symposium web site http://www.performance-symposium.org/2014/. The web site provides the detailed program (with links to the presentation slides and posters), the online proceedings, and photos from the event.
We are looking forward to SOSP 2015, which will be held in Munich, Germany!